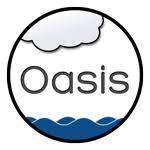 The OASIS coupler allowing synchronized exchanges of coupling information between numerical codes representing different components of the climate system. Currently, it is developed by Centre Européen de Recherche et de Formation Avancée en Calcul Scientifique (CERFACS) and Centre National de la Recherche Scientifique - Institut Pierre Simon Laplace (CNRS-IPSL).
OASIS3-MCT is the latest version of the OASIS coupler interfaced with the Model Coupling Toolkit (MCT) from the Argonne National Laboratory. It offers today a fully parallel implementation of coupling field regridding and exchange.
How to apply for support:
In the first call, two months of Dedicated User Support were granted to NERSC (Norway) as ESiWACE2 Service 2 on OASIS3-MCT in 2020.
The next call will be in September 2021. If you are interested in support, please contact Sophie Valcke.
Additional support on OASIS3-MCT is also provided under the IS-ENES3 project. Trainings on OASIS3-MCT are also offered as face-to-face trainings and Small Private Online Courses (SPOCs); information about the next sessions can be found on the OASIS3-MCT training page.


References:
Craig A., Valcke S., Coquart L., 2017: Development and performance of a new version of the OASIS coupler, OASIS3-MCT_3.0, Geoscientific Model Development, 10, pp. 3297-3308, doi:10.5194/gmd-10-3297-2017 (PDF version)