Services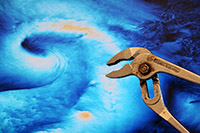 In both ESiWACE projects, a key element is the preparation of the weather and climate community for future exascale systems by offering software support and training programs.
For a better exploitability of the huge amounts of resulting data, the ESiWACE projects develop and support specific software packages concerning computing and storage aspects. 
Within the ESiWACE2 project, open HPC user-services to the Earth system modelling community in Europe will be provided in order to improve model efficiency.
In addition to the precise and individual answers to user-specific problems, as provided by the two services above, training programs constitute a transfer of general knowledge from experts to the community.

The ESiWACE projects also provide support for the DYnamics of the Atmospheric general circulation Modeled On Non-hydrostatic Domains (DYAMOND) initiative. This initiative describes a framework for the intercomparison of an emerging class of atmospheric circulation models that represent the most important scales of the full three-dimensional fluid dynamics of the atmospheric circulation.