19.05.2022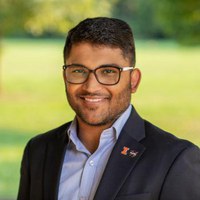 ESiWACE is proud to announce the winner of the DYAMOND data analysis contest organised at the 3rd Pan-GASS Meeting, Understanding and Modeling Atmospheric Processes (UMAP 2022): 
Dr. Piyush Garg from the Argonne National Laboratory, Illinois (USA).
In his Ph.D. thesis entitled "Tropical Oceanic Mesoscale Cold Pools in DYAMOND 2.5 km ICON Model" he analysed one of the global storm-resolving DYAMOND Summer experiments. Dr. Piyush Garg and his colleagues looked at 40 days of simulated cold pool climatology and compared it with a scatterometer-observed cold pool climatology. They also used random forest regression to identify the relationship between the environment and cold pools. The preprint of his paper can be found at https://www.essoar.org/doi/10.1002/essoar.10510600.1.
Out of 7 applications, Dr. Piyush Garg's unique analysis and its beautiful depiction in the submitted plot convinced the committee to choose him as the winner. The prize is a "Travel Support" award financed by ESiWACE2 to attend UMAP 2022 held from 25-29 July 2022 in Monterey, CA, USA. There he will give an oral presentation of his work "Tropical Oceanic Cold Pools in a High-Resolution DYAMOND-ICON Simulation" on Wednesday, 27 July 2022 in the Regency Grand Ballroom.
Congratulations!


For more information about UMAP 2022 (25-29 July, 2022 in Monterey, CA, USA), see our event page.